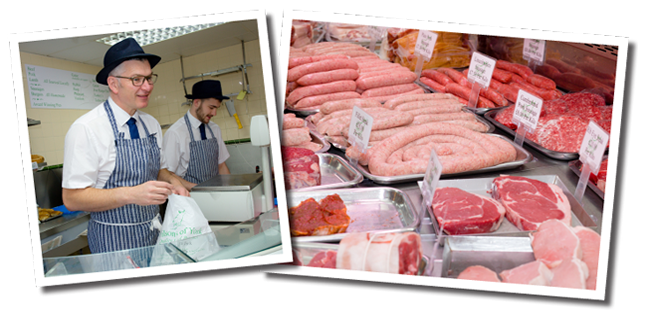 About Wilson's of York Butchers
We are proud to be Huntington's local butchers and have been since 2001. We aim to continue our excellent service and provide quality products for our local community.
David Wilson began his butchering career on leaving school at the age of sixteen, working for Snowden's of York, Scott's of York, Howard's of Clifton and Sisson's of Pocklington. Sadly, only one of these butchers remains; unfortunately your local friendly family butcher's shop is becoming a rarity. Please support your local butcher.
We are proud to be a member of York Butchers Gild and the Nartional Federation of Meat and Food Traders.

Each year we endeavour to improve our service and our buisness. We now have a dedicated team of 14 staff, who we hope you find helpful and friendly – let us know if they're not! Butchery is a labour intensive business – it needs to be to ensure high quality produce and maintain high standards from turf to table. Don't be shy to ask us for advice on how to cook or for inspiration.
We welcome wholesale enquiries. We are suppliers to many local schools, pubs, restaurants and cafes in York, please call 01904 621835 or email info@wilsonsofyork.co.uk for a wholesale price list.