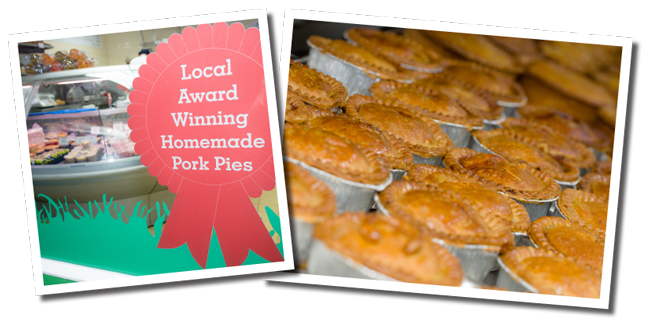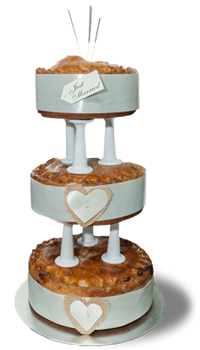 Our Range of Products
| | |
| --- | --- |
| • Local Matured Beef | • Wide Variety of Homemade Sausages |
| • Local Lamb | • British and Homecured Bacon |
| • Local Pork | • Local Award-winning Homemade Pork Pies |
| • Local Free Range Poultry | • Homemade Beef, Lamb, Pork, Steak Burgers |
| • English Chicken | • Homemade Steak Pies, Sausage Rolls, etc. |
| • Seasonal Game and Rabbit | • Cooked Cold Meats |
| • Barbecue | • Hot and Cold Sanwiches |
| •Weekly special offers | • Celebration and wedding cakes |
New Pie Flavours
Why not try our selection of new delicious pie flavours such as, curry and mango, black pudding and red onion chutney, Chilli Jam Man, apple, chorizo.
Special order celebration and wedding cakes
Fancy something different, then order a pie celebration cake perfect for any special occasion.
Don't Forget the Dog!
We provide cooked dog bones, home made liver cake and pet mince to keep your best friend as fit as a butchers dog!
Our Philosophy
Our livestock (cattle, pigs and lambs) is individually picked out and bought locally to ensure and maintain quality, improve sustainability and safeguard the environment. Beef and Lamb are matured to ensure tenderness and improve the flavour. We buy the whole carcass and try to waste as little as possible to pay full respect to the animals we buy. With cuts from nose to tail, if it's not in the window we will endeavour to provide it for you.
Our bacon is British and we also cure our very own bacon. We offer a wide selection of home roasted and cooked cold meats on a daily basis; belly pork is a firm favourite – yum, yum, yum. All our poultry is British and our free range poultry is as local as Loose Birds of Harome. A wide range of seasonal game such as venison, pheasant and partridge is available upon request and we are able to source old favourites such as rabbit, mutton and, if we don't have what you want, we'll do our very best to get it for you.
We make our own pork pies, steak (and local ale) pies, mince and onion pies, quiches, sausages, and burgers, in house and by hand using our own secret recipes – we won't tell so don't ask, that's why it's a secret!
We also offer a wide selection of cold and hot sandwiches including our humble bacon or homemade triple sausage sandwich. Where possible we try to deal with small local suppliers and producers. Fresh eggs, rapeseed oil from Oil of Aldborough, Mrs Darlington's meat condiments, fresh curry sauce mixes from Rafi's Spice box and we even have good old recipe makers if you are short on time or inspiration.